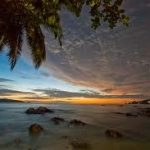 Patong Beach (Hat Patong)
This Beach is the most developed, most vibrant, most visited beach of Phuket that never fails to impress visitors. Located approximately 15 kilometers from the city,  the beach has a wide range of accommodations and shopping arcades, and  provides magnificent leisure activities and energetic night-time  entertainment.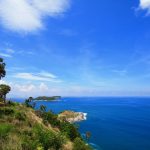 Phromthep cape (Laem Phromthep)
Literally translate as Brahmas Cape, Laem Phromthep is perhaps one of Phuket's most important landmarks. There is a saying that you havent been to Phuket unless  you visit Laem Phromthep. It is here that visitors soak up the sun and savor  the breathtaking panoramic view of the Andaman Sea from the islands  southern-most tip. The Cape is crowded especially in the evening, as it is a  popular observation point at sunset.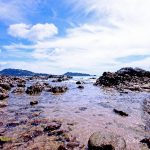 Kalim Beach (Hat Kalim)
Located north of Patong Beach is a secluded beach dotted with rocks and coral reefs. Accommodations and restaurants are available. Another interesting stopover is  Freedom Beach which is located around the head of Laem Ka Sai Rot and is  accessible by a chartered long-tailed boat.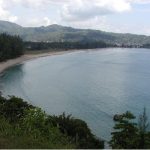 Kamala Beach (Hat Kamala)
Located approximately 26 kilometers from Phuket City, Hat Kamala is a relatively secluded 26 kilometer beach that is suitable for total relaxation.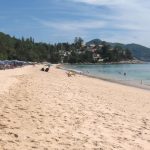 Surin Beach (Hat Surin)
Located approximately 24 kilometers from town and only in a short distance north of  Laem Sing is an enchanting beach lined with casuarinas trees. Isolated and secluded, the beach is ideal for sunbathing and relaxing. The beach, however,  is not suitable for swimming as it has a steep sloping beach and the weather  fluctuates during the southwest monsoon. In addition, there is a golf course  which was established in the reign of King Rama VII.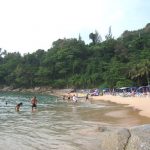 Sing cape (Laem Sing)
Located just one kilometer from Surin Beach, Laem Sing is a relatively small quite  beach perfect for a break from the crowd. Laem Sing has a white sandy beach that glitters in the sun and is dotted with uniquely shaped rocks.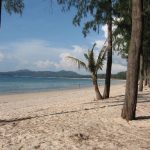 Bang Thao bay (Ao Bang Thao)
A large open bay that is the location of one of Phuket's longest beaches, Ao Bang Thao has a long history related to the economy of the island. Previously a tin mining area the location has been transformed into an area where Phuket's luxurious resorts and golf courses, especially Laguna complex, are located.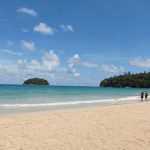 Kata Beach (Hat Kata)
Located approximately 17 kilometers from Phuket City are Kata Noi (Small Kata) and Kata Yai (Big Kata) Beaches. Both are renowned for snorkeling to see the coral, tropical fishes and the seas eco-system. Also worth visiting is Ko Pu, a small uninhabited island located off Laem Sai. Most visitors find snorkeling along the islands rich coral reef enjoyable. Diverse beach activities are available on both beaches.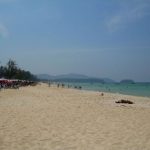 Karon Beach (Hat Karon)
Located south of Patong Beach, Hat Karon is a curving beach that lies beautifully in  the sun with small sand dunes, asuarinas and palm trees. The crescent bay is the beach's signature that drawing travelers attention. From May to October, the beach may be affected by serious undertows, as the bay open. Watch out for those warning flags before going swimming or surfing at the southern end of the beach. During the high season, the each is ideal for relaxation, swimming or sunbathing.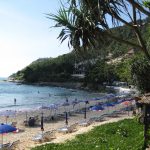 Nai Han Beach
Located a few kilometers from Kata Beach, next to Phromthep Cape, approximately 18 kilometers from town is Hat Nai Han, an extra-ordinary beach that has white powdery sand and crystal clear water. The beach borders on two charming landscaped lagoons surrounded by rubber trees and other tropical plants. As the beach has not yet been fully developed to its full potential, it is less crowded, more peaceful, thus is ideal for people seeking solitude.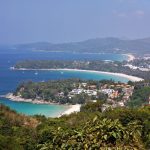 View Point
The most famous observation point of the 3 beaches, Kata Not, Kata and Karon, is located on the road half-way between Nai Harn Beach and Kata Noi Beach. From this spot, an intriguing view of the 3 beaches and Ko Pu has constantly impresses visitors.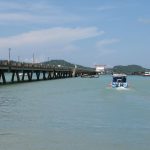 Chalong bay (Ao Chalong)
This bay, which has the islands largest and most visited pier, is located 11 kilometers south of town. From this pier, holidaymakers can get chartered boats to some nearby islands south of Phuket. The bay area is dotted with dive shops, a few travel agencies and superb seafood restaurants. Although the bay has a stunning setting and relaxing ambience, swimming is not recommended here.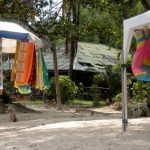 Ka cape (Laem Ka)
This Cape is located approximately 16 kilometers from the town center at the extreme southwest end of Chalong Bay. Ideal for swimming, the beach is clean, quite and dotted with rocks.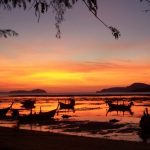 Rawai Beach (Hat Rawai)
Located approximately 17 kilometers from town is the less crowded, more peaceful and less commercial beach with a second-to-none pristine beach. The Beach is home to a well-established community of Phuket s Chao Le people (sea gypsies). In addition, from this beach visitors can charter boats to explore other offshore islands. Hat Laem Kha, located to the northeast of the beach, is the departure point for those wishing to visit Ko Lon, and Ko He. Laem Phromthep, Phukets landmark, is located at the southern end of the beach. This cape is an ideal spot for diving and snorkeling.